Loading...
4
0
5
0
false

Loading...
2
0
5
0
false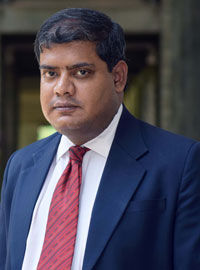 Email
sankarshan.basu@iimb.ac.in
Biography
Professor Basu's areas of interest in terms of research are in Financial Calculus, Option Pricing, Bond and Portfolio Valuation, Applications of Quantitative Techniques to Finance, Insurance, Reinsurance, Risk Management, Biostatistics and Corporate Finance. He has presented his work at international conferences in Thailand, USA, UK, France, Spain, Norway, Iran, Tunisia, Morocco, The Netherlands and India. He has, to his credit, a number of papers in international journals of repute like Insurance: Mathematics and Economics and the Journal of Statistical Planning and Inference. He is currently President of the Asia-Pacific Risk and Insurance Association (APRIA).

Loading...
3
0
5
0
false
Results 1-20 of 34 (Search time: 0.006 seconds).
| | Issue Date | Title | Sub-Title | Author(s) | Journal Name | Volume Number | Issue Number | Pages |
| --- | --- | --- | --- | --- | --- | --- | --- | --- |
| 1 | 2003 | A Markov chain based No-claim discount system | - | Das, Shubhabrata ; Basu, Sankarshan | Journal of Insurance and Risk Management | Vol.II | Iss.3 | 61-72p. |
| 2 | 2018 | A review of bank efficiency and productivity | - | Bhatia, Vaneet ; Basu, Sankarshan ; Mitra, Subrata Kumar | Opsearch | Vol.55 | Iss.34 | 557-600p. |
| 3 | 2019 | An analysis of NPAS of Indian banks: using a comprehensive framework of 31 financial ratios | - | Bawa, Jaslene Kaur ; Goyal, Vinay ; Mitra, S K ; Basu, Sankarshan | IIMB Management Review | Vol.31 | Iss.1 | 51-62p. |
| 4 | 2016 | Assessing performance of liquidity adjusted value-at-risk models | - | Daka, Vandana Rao ; Basu, Sankarshan | International Journal of Financial Research | Vol.7 | Iss.5 | 87-98p. |
| 5 | 2019 | Asset liability management model with decision support system for life insurance companies: computational results | - | Rao, Harish V ; Basu, Sankarshan ; Tiwari, Manoj Kumar ; Dutta, Goutam | Computers and industrial Engineering | Vol.128 | | 985-998p. |
| 6 | 2021 | Bank's battle against insider frauds ignitors and mitigators: An emerging nation experience | - | Roy, Neha Chhabra ; Basu, Sankarshan | Journal of Facilities Management | Vol.19 | Iss.4 | 437-457p. |
| 7 | 2021 | Causality-in-quantiles between crude oil and stock markets: Evidence from emerging economies | - | Bhatia, Vaneet ; Basu, Sankarshan | Finance Research Letters | Vol.40 | | 101736 |
| 8 | 2016 | Country risk analysis in emerging markets: The Indian example | - | Basu, Sankarshan | Journal of Business and Economics | Vol.7 | Iss.1 | 44-57p. |
| 9 | 7-Dec-2016 | Creating a cashless utopia | - | Basu, Sankarshan ; Krishnamurty, S ; Roy, Shyamal | The Hindu Business Line | | | |
| 10 | 2010 | Development of utility function for life insurance buyers in the Indian market | - | Dutta, Goutam ; Basu, Sankarshan ; John, Jose | Journal of the Operational Research Society | Vol.61 | Iss.4 | 585-593p. |
| 11 | 2020 | Effect of the U.S. quantitative easing policy on institutional investor flows of an emerging country | - | Damle, Harshali ; Basu, Sankarshan | Cogent Economics and Finance | Vol.8 | Iss.1 | 17p. |
| 12 | 2021 | Examining the impact of ETF Investments on different characteristics of the underlying stocks in the US | - | Prabhu, Dinakar ; Soni, Rishabh ; Mishra, Mridul ; Basu, Sankarshan | Journal of International Finance and Economics | Vol.21 | Iss.1 | 49-69p. |
| 13 | 2020 | Has the global financial crisis changed the market response to credit ratings? Evidence from an emerging market | - | Basu, Sankarshan ; Thampy, Ashok ; Krishnan, Kaveri | Journal of Emerging Market Finance | Vol.19 | Iss.1 | 7-32p. |
| 14 | 2016 | India emerging: new financial architecture | - | Basu, Sankarshan | IIMB Management Review | Vol.28 | Iss.3 | 170-178p. |
| 15 | 2022 | Interest rate transmission of monetary policy: India perspective | - | Amrutkar, Pratik ; Joshi, Swapnil ; Basu, Sankarshan | GLIMS Journal of Management Review and Transformation | Vol.1 | Iss.1 | 30-47p. |
| 16 | 2018 | Investment portfolio performances of public sector general insurance firms in India: an empirical approach | - | Chakraborty, Joy ; Basu, Sankarshan | Business Perspectives and Research | Vol.6 | Iss.1 | 61-75p. |
| 17 | 2016 | Is corporate hedging consistent with value-maximization in emerging markets?: an empirical analysis of Indian firms | - | Daka, Vandana Rao ; Basu, Sankarshan | Journal of Accounting, Finance and Economics | Vol.6 | Iss.1 | 30-48p. |
| 18 | 2020 | Market responses to increased transparency: An Indian narrative | - | Mukherji, Arnab ; Basu, Sankarshan ; Krishnan, Kaveri | International Review of Economics and Finance | Vol.69 | | 663-677p. |
| 19 | 2013 | Market-wide herding and the impact of institutional investors in the Indian capital market | - | Lakshman, M V ; Basu, Sankarshan ; Vaidyanathan, R | Journal of Emerging Market Finance | Vol.12 | Iss.2 | 197-237p. |
| 20 | 31-Jul-2016 | Measured response to high frequency trading | - | Sasidharan, Anand ; Basu, Sankarshan | The Hindu Business Line | | | |