Loading...
4
0
5
0
false

Loading...
2
0
5
0
false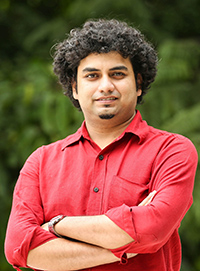 Email
ritwikbanerjee@iimb.ac.in
Biography
Ritwik Banerjee is an Associate Professor of the Economics and Social Sciences area at Indian Institute of Management Bangalore. His primary research area is at the intersection between Behavioural and Development Economics and he extensively uses Experimental Methods for his research. Some of the topics he has investigated or is currently investigating are corruption, inequality, education and discrimination. His research has been published in peer-reviewed journals such as Economics Letters and Journal of Public Economics. Prior to his current assignment, he has worked as Post Doctoral Research Fellow, Aarhus University, Denmark with an independent grant from the Social Science Research Council of Denmark. He was an Academic Visitor at the Research Department of Federal Reserve, Chicago during the summer of 2012 and a Visiting Scholar at the Economics Department, Harvard University in Spring 2015. He has also served as a Consultant at the World Bank in Washington DC and as a Research Associate at ICRIER, New Delhi. For more information of his research, please visit www.ritwikbanerjee.in.

Loading...
3
0
5
0
false
Results 1-8 of 8 (Search time: 0.002 seconds).
| | Issue Date | Title | Sub-Title | Author(s) | Journal Name | Volume Number | Issue Number | Pages |
| --- | --- | --- | --- | --- | --- | --- | --- | --- |
| 1 | 2021 | Exponential-growth prediction bias and compliance with safety measures related to COVID-19 | - | Banerjee, Ritwik ; Bhattacharya, Joydeep ; Majumdar, Priyama | Social Science and Medicine | Vol.268 | | |
| 2 | 2020 | Feedback spillovers across tasks, self-confidence and competitiveness | - | Banerjee, Ritwik ; Gupta, Nabanita Datta ; Villeval, Marie Claire | Games and Economic Behavior | Vol. 123 | | 127-170p. |
| 3 | 11-Oct-2017 | Nobel prize for a behaviour influencer: lessons from the work of Richard Thaler | - | Banerjee, Ritwik | The Indian Express | | | |
| 4 | 2018 | On monetary and non-monetary interventions to combat corruption | - | Banerjee, Ritwik ; Mitra, Arnab | Journal of Economic Behavior and Organization | Vol.149 | | 332-355p. |
| 5 | 2018 | On the interpretation of world values survey trust question: global expectations vs. local beliefs | - | Banerjee, Ritwik | European Journal of Political Economy | Vol.55 | | 491-510p. |
| 6 | 2018 | Predicting food price inflation through online prices in India | - | Banerjee, Ritwik ; Singhal, Nished ; Subramanian, Chetan | Economic and Political Weekly | Vol.53 | Iss.23 | 132-135p. |
| 7 | 2016 | Social Norms Regarding Bribing in India: An Experimental Analysis | - | Banerjee, Ritwik ; Baul, Tushi ; Rosenblat, Tanya | Journal of Contextual Economics – Schmollers Jahrbuch | Vol.136 | Iss.2 | 171-197p. |
| 8 | 2018 | The spillover effects of affirmative action on competitiveness and unethical behavior | - | Banerjee, Ritwik ; Gupta, Nabanita Datta ; Villeval, Marie Claire | European Economic Review | Vol.101 | | 567-604p. |