Loading...
4
0
5
0
false

Loading...
2
0
5
0
false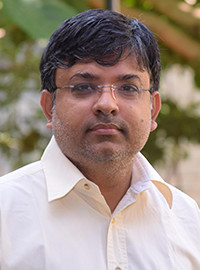 Email
kanchan.mukherjee@iimb.ac.in
Biography
Dr. Kanchan Mukherjee is a Professor of Organizational Behavior and Human Resource Management. He has a BTech in Electrical Engineering from IIT Kanpur, an MBA from IIM Calcutta, and a PhD in Decision Sciences from INSEAD, France. He held the Young Faculty Research Chair from 2012-2015 at IIM Bangalore. His corporate experience, spanning almost a decade, is primarily in consulting and financial services, with focus on mergers & acquisitions, credit policy and risk management. He has several publications in leading academic and practitioner journals. He specializes in analytical modelling as well as experimental research methods including surveys and design of controlled experiments.He received the prestigious Hillel Einhorn Award from the US-based Society for Judgment and Decision Making in 2011 for research excellence.

Loading...
3
0
5
0
false
Results 1-5 of 5 (Search time: 0.004 seconds).
| | Issue Date | Title | Sub-Title | Author(s) | Journal Name | Volume Number | Issue Number | Pages |
| --- | --- | --- | --- | --- | --- | --- | --- | --- |
| 1 | 2013 | Assessing the chances of success: nave statistics versus kind experience | - | Hogarth, Robin M ; Mukherjee, Kanchan ; Soyer, Emre | Journal of Experimental Psychology: Learning Memory and Cognition | Vol.39 | Iss.1 | 14-32p. |
| 2 | 2019 | Effect of mental construals on cooperative and competitive conflict management styles | - | Mukherjee, Kanchan ; Upadhyay, Divya | International Journal of Conflict Management | Vol.30 | Iss.2 | 202-226p. |
| 3 | 2014 | Leading in troubled times | - | Mukherjee, Kanchan | Indian Management Magazine | | | 84-87p. |
| 4 | 2019 | Payment methods and their effect on durable goods replacement | - | Mukherjee, Kanchan ; Tatavarthy, Aruna Divya | Journal of Consumer Marketing | Vol.36 | Iss.4 | 484-493p. |
| 5 | 2013 | Unpacking the future: a nudge toward wider subjective confidence intervals | - | Jain, Kriti ; Mukherjee, Kanchan ; Bearden, J Neil ; Gaba, Anil | Management Science | Vol.59 | Iss.9 | 1970-1987p. |